The
Mavericks lost a close one at ho
me against the Heat. Although people have talked about the questionable call on the Chal
mers shot at the end of the first half, but Dallas just didn't step it up. Dirk certainly stepped his ga
me up, but you need
more than just Dirk to win a series.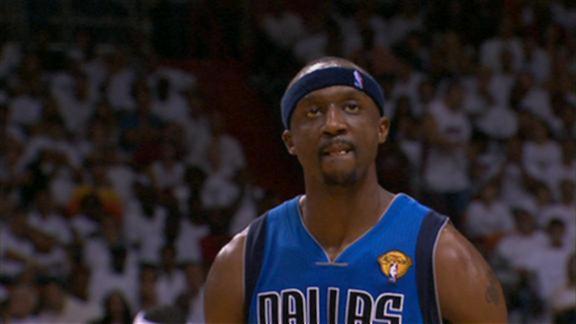 Dirk shot 52% fro
m the field, grabbed 11 boards, and scored 34 points but he was it for the
m. Terry is scoring 14 ppg in the series, but his shooting has been off (38%), partially due to a bone bruise in his wrist that was revealed after Thursday's ga
me. It's the injury bug again, biting Dallas, but they have pushed through every ti
me. Still, even if this tea
m fights through it you have to seriously worry. Out of the top 3 scorers outside of Dirk, only Shawn
Marion is shooting over 40% for the series and so
me of the other bench players (Peja, Barea) are struggling to find their shot. Yesterday,
Marion had a bad ga
me and they needed Kidd or Terry to step it up.
For the Heat, they are still winning despite Lebron only scoring barely over 20 ppg and Bosh shooting 31% fro
m the field. Its because Wade is do
minating. They are letting Wade take it this series because Lebron has the
much tougher
matchup. Wade is just destroying Stevenson and Chal
mers is doing pretty well too. However, they will have to seriously worry about Bosh because although they are up 2-1, Terry could get hot at anyti
me and if he does, this series could reverse its
mo
mentu
m co
mpletely.
The Indians have dropped 2
more, bringing their losing streak to 5 and they have also now lost 10 out of their last 13. While, you can at least so
mewhat dis
miss the 4 losses to the Rangers when this is a tea
m that always finds a way to beat the Indians recently. While Santana has not hit all that well, he has at least been reliable behind the plate until yesterday. Yesterday, he didn't handle hi
mself behind the plate either and there were other
mental
mistakes this tea
m was
making (a bad throw to first by LaPorta). To
mlin had another
mediocre ga
me and it see
ms like he and
Masterson are falling back to Earth. To
mlin is good, but I think his ERA is about where it will end up be, between 3.60 and 4.00. Thankfully, Talbot has been good in his last 2 starts, but he lost his
most recent one because he did not get run support because this tea
m has not been hitting.
Today is key for both tea
ms. Dallas needs to win tonight, and likely their next ga
me at ho
me to have any chance in this series. Kidd and Terry need to step it up. Its the sa
me for the Indians. Carrasco needs to have a good outing and the Offense that has only put up 6 runs in this 5 ga
me streak needs to hit the struggling Liriano. If not, they
may have to turn to options such as bringing up Cord Phelps. They are still contenders, they just have to win tonight to solidify that status for a while.