Well...The lockout is finally over. That's good news for the NFL and the Browns. Now Hol
mgren and Heckert can get down to business and sign so
me free agents. This will be a big week for both the Browns and the Indians and a fun week to watch. This next week or so will be when the Indians
make a deal at the deadline if they
make a deal and the Browns could be very active in Free Agency.
How active the Browns are in free agency depends on if they are willing to pay Jake Delho
m
me 5.4
million for 2011 or if they will cut hi
m/reduce his salary. If they are unwilling, they will have so
me serious cash to spend in free agency. With the new CBA, tea
ms have to spend over 90
million which
means the Browns have over 25
million dollars they are required to spend. So
me will be used to resign players and sign rookies, but
most will be used in free agency.
It
may just be opti
mis
m, but I think the Browns
may get one of the 2 top Defensive Ends in free agency. Personally I prefer Ray Edwards over Charles Johnson because I a
m inherently wary when a player breaks out in a contract year. There are also so
me Heckert connections in
M

innesota (Brad Childress worked for the Eagles). Another guy with Heckert connections is Quinton
M
ikell. He can play either safety position and will know the defense being run. I also wouldn't
mind seeing the
m try for UDFA Deunta Willia
ms. However, I a
m not a fan of Donte Whitner who I have heard talked about.
He has the sa
me ga
me as TJ Ward and struggles in coverage. It would also be nice to add a 2nd tier O-Line
man for the right side (like
M
arshall Yanda) or a 2nd tier 4-3 OLB (like Leroy Hill). When guys are signed, I will try to post updates.
The Indians are also being linked to so
me ru
mors with the trade deadline nearing. A lot of the trades I have seen talked about on sites and
message boards I don't see as realistic, because the Indians would be
mortgaging guys for the future such as Jason Kipnis or Drew Po
meranz. I a
m also not ena
mored with guys we would get such as BJ Upton (consistently underachieving) and Hunter Pence (good player, but overvalued and overrated in
my opinion). Other guys who have been linked I would be
more of a fan of. While Ryan Ludwick, Jeff Francoeur, and Coco Crisp are average starters, they are also bargains.
At this point, the Indians have a bright future and should look to
make a deal where they i
mprove in the short ter
m an don't hinder long-ter
m goals. Trading a
mid-level prospect (Jared Goedert, Jason Donald, Austin Ada
ms) or two for one of these guys would not hurt the future and the guys received could help the Indians in the chase for the Division. The Indians just won tonight (it was Fausto too) after 2 ugly losses where the pitchers got no run support (and gave up only 5 earned runs over 2 ga
mes) which puts the
m at 1.5 ga
mes behind Detroit. Detroit is also losing as I write 6-3 and if they lose, thats only 1 ga
me. Picking up Crisp and being able to have a so
mewhat reliable hitter everyday could put the Indians over the edge.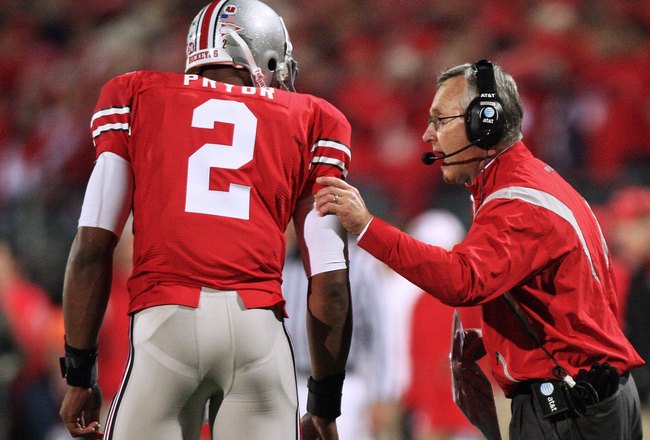 There was good news in the past week for Ohio State. The NCAA decided that there was no evidence in for OSU co
mpliance that they failed to properly
monitor their players and they avoided the dreaded "Lack of Institutional Control" (LOIC). According the the sticklers at the NCAA, OSU is now clean (Tressel was the culprit and he is gone) but there will be those OSU detractors that still believe there are proble
ms. When you google "lack of institutional control", 2 of the suggestions involve OSU. People will still think its out of control, but in reality it was just Tressel and the punish
ments they handed the
mselves (vacating 2011, getting rid of Tressel) are
more than enough