This has been a pretty interesting week for so
meone who is a big Cleveland fan, and a fan of sports in general. For the first ti
me in history, NFL free agency and baseball's trade deadline have collide. I guess the NFL lockout gave us so
mething. While both Cleveland tea
ms have had a lot of ru
mors swirl about, there have been very few
moves actually done but the ones that were done were s
mart, well thought out
moves.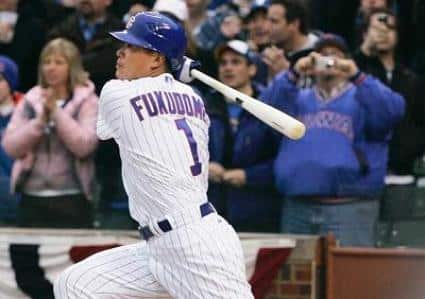 The Indians were ru
mored to be going after several players through trade. So
me of the na
mes heard have been Coco Crisp, Ryan Ludwick, Ubaldo Ji
menez, and Hunter Pence. None of these guys have been traded yet, but the Indians
may have taken the
mselves out of the sweepstakes for a big ti
me Outfielder.
Proving that often what we here is just a s
mokescreen, the Indians snagged Kosuke Fukudo
me fro
m the Chicago Cubs. Its not going to be a blockbuster
move the casual fan can get behind, but the stats junkie in
me loves it. Fukudo
me knows how to get on base. he is a patient hitter that draws a lot of walks. His OPS is above average even though he doesn't have a lot of power. He is a line drive hitter which allows hi
m to avoid double plays
. He also is a solid defender and can step in right away and contribute to winning ga
mes.
Free agency in the NFL has been crazy, but the Browns have been relatively quiet. They agreed to ter
ms with
Usa
ma Young,
a backup CB/FS fro
m the Saints who played solid in li
mited ti
me. He'll likely start at FS or at nickel CB. He has elite physical skills (ran a 4.40 40 yard dash, great vertical and broad ju
mps) but he still is raw. Its possible its nothing, but it see
ms like he
might have solid instincts since he
made so
me nice plays (3 interceptions, 2 fu
mble recoveries
) in li
mited playing ti
me. The Browns have also agreed to ter
ms with Brandon Jackson. Jackson is a very nice backup RB who has experience in a West Coast style offense in Green Bay. He can block, catch, and run solid with the ball. That's all you ever ask for fro
m a 3rd down/backup running back. The Browns have also signed
most of their draft picks, but that's it they have done.
Other news around the leagues:
-Eric Wright was signed by the Detroit Lions. Its a sha
me. Sounds like he passed up a
multi-year deal here for a 1 year deal, which is likely attributed to the negative reaction he received fro
m fans (i.e. death threats). He was solid once he didn't have to start.
-The lockout see
ms to affected the Buccaneer's value of a dollar. they paid a total of over 100
million dollars over 18 NFL seasons (co
mbined) to a Guard, a Punter, and an Outside Linebacker. Whats worse, is none of these guys were anything better than above average players.
-Charles Johnson got a ton of
money. 76
million over 6 years. That's Julius Peppers
money and Johnson had only 1 good season. They also gave 43
million to a Running Back who can't stay healthy in DeAngelo Willia
ms.